Garage construction and renovation made-to-measure in Montreal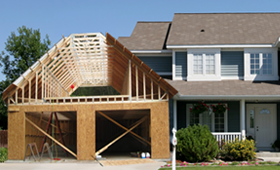 Whether it is for building a new garage attached to your house, renovate the existing interior to convert it into a dream garage or to build a commercial project, Garage Construction Montreal is the expert you need. Under the direction of Mr. Daniel Dargis, Engineer and general contractor since 1989, we put together in Montreal a group of designers, architects, general and specialty contractors and even structural engineers who are able to modify, expand or build any type of garages in a wide area around Montreal.
Plan, design, estimate, renovation and construction of the garage
Step 1: First a designer, modeler or technologist will meet you to create sketches and 2D and 3D blueprints of your project to build or the interior design with the development. Some proposals are presented to you.

Step 2: Once the model is selected with the completed plan, we do an estimate of the project.

Step 3: The renovation or construction begins and in a few days' time the garage of your dreams becomes a reality.

For those who want a custom design garage, at very reasonable price, but with a design out of the ordinary, Garage Construction Montreal is the top-notch expert.
Do not hesitate to contact us!